Anti-fascists clash with police in Italy
Comments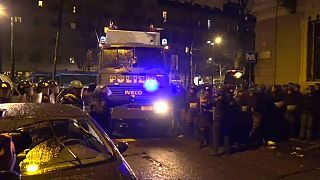 Anti-fascist demonstrators have once again clashed with police in Italy ahead of the country's upcoming general election.
In Turin, leftist demonstrators tried to break through a police cordon around a hotel where the far-right CasaPound party was holding a rally.
They were pushed back by riot police using water cannons and tear gas.
Three officers were injured in efforts to keep protestors away from the hotel and a number of arrests were made.
The recent rise in far-right nationalism has sparked a serious political debate in Italy about how the country is coming to terms with its fascist past.
Many are concerned how the rise of neo-fascism will be reflected in the upcoming election.