Anti-fascist protesters rally against racism in Italy
Comments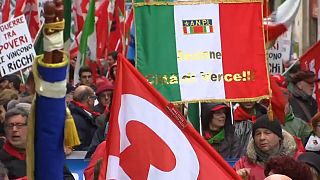 Anti-fascist demonstrators gathered in Rome on Saturday to protest what they perceive to be a rise in neo-fascist sentiment across Italy.
Politicians, unionists and Prime Minister Paolo Gentiloni joined the march to call for a stop to rascism and fascism in the country.
Scuffles have broken out between far-left protesters and members of a neo-fascist party across Italy in the last few days ahead of the March 4 national election, a sign of rising tensions over the country's migrant population.
Surveys indicate that many Italians blame immigrants for violent crime.
Leaders of a centre-right campaign alliance, including former Premier Silvio Berlusconi and Salvini, have pledged to quickly deport huge numbers of the migrants if they win power.
Early in February in Macerata, a city in central Italy, a far-right gunman with neo-Nazi sympathies wounded six African migrants in a drive-by shooting.
Protester, Giulia Missera had travelled from Macerata to join the protest and she said ways must be found to integrate people into Italian society.
Another protester Nicolo Orlino said he wanted to defend a founding value of the country, that of antifascism.  
In Milan, hundreds of anti-fascists demontrators took to the streets ahead of planned neo-fascist ralliesby neo-fascist group CasaPound and the anti-immigrant Northern League.
The protesters gathered at a monument to Italian national hero Giuseppe Garibaldi in a central square of Milan, displaying an anti-fascist banner and chanting partisan songs.  
Scuffles broke out after students refused to leave the area when asked by riot police.