Kosovo rounds off independence celebrations with military parade
Comments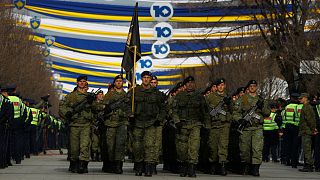 -
Kosovo has celebrated 10 years of independence with a military and police parade through the streets of the capital Pristina.
Kosovo seceded from Serbia in 2008, almost a decade after a NATO bombing campaign against Serbia ended a bloody crackdown on ethnic Albanians.
It has since been recognised by more than 115 countries, but its accession to the UN has been blocked by Serbia's allies Russia and China.
President Hashim Thaci said Kosovo should eventually become part of the EU and NATO.
"As the president of the Republic of Kosovo," he said "I am determined to build a Kosovo with an army as soon as possible," he said.
Earlier on Sunday, Kosovo's Parliament held a special session to celebrate. In attendance was Albania's Prime Minister Edi Rama. He said Kosovo had managed to achieve what was long a utopia.
Serbia still sees Kosovo as part of its own territory. But President Aleksandar Vucic signaled it was open for dialogue.
Vucic was speaking in Belgrade after meeting with a group of students from the city of Kosovska Mitrovica.
"In order for someone to join the UN, they (Kosovo) must reach an agreement with Serbia. In order for this agreement to be found, we must reach a compromise solution," he said.