'It's like a dream': Kosovans celebrate 10 years of independence
Comments
By Jorgen Samso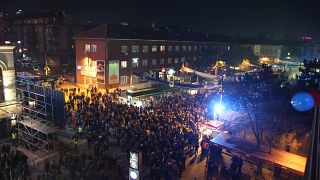 Kosovans took to the streets of Pristina to celebrate a decade of independence from Serbia on Saturday night. 
Kosovo-born British singer Rita Ora headlined an open-air concert in the capital's main square to celebrate the occasion. 
Locals see the anniversary as a marker of a historic struggle for ethnic Albanian Kosovans.
Arian Hansi, a Kosovan citizen, told Euronews that independence was like a dream for everybody: 
"That's all we asked, to enjoy life like everyone else in the world."
Hasim Gashi, another local, said that life in Kosovo was good and that people were fantastic. 
However, the small country still has some issues that affect its entry into the European Union. 
Ten years after gaining sovereignty, the country is still not recognised by Serbia. 
Kosovo broke away from Serbia in 1999 after NATO bombed the Balkan country for 11 weeks to halt a wave of killings and expulsions of ethnic Albanian civilians by Serbian security forces.
It declared independence in 2008 and has been recognized by more than 100 countries around the world, including the major Western powers. However, five of the EU's 28 members, including Greece and Spain, do not recognize Kosovo as sovereign, complicating the bloc's ability to take a united stand.
Kosovo's president, Hashim Thaci told Reuters that he expected a deal with Serbia within the year and that it would result in Kosovo's membership of the United Nations.