Merkel and May address media after Brexit talks
Comments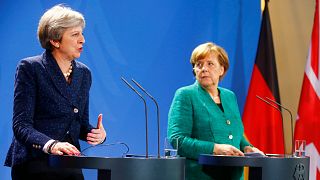 British Prime Minister Theresa May and German Chancellor Angela Merkel have met in Berlin for Brexit talks in the German capital.
They hope to overcome the near-deadlock in attempts to negotiate a Brexit deal with the EU.
The meeting between the two leaders comes a day ahead of May's speech to the Munich Security Conference on Saturday in which she is expected to set out the "security partnership" she hopes to maintain with the EU after the UK leaves the bloc.
The UK is under growing pressure from EU leaders to set out detailed plans for Brexit.
Germany's point of view
German officials say they are frustrated with Britain's lack of clarity about what it wants after the split.
This includes what new customs arrangment it wants and how closely it will stick to the EU's rules for goods and services.
Earlier this week, Germany called on the UK to offer more "concrete" plans.
Internal struggles
May will be the third European prime minister Merkel receives on Friday.
Germany is preoccupied with the struggle to form a new government. Merkel is struggling to coax the Social Democrats to join her conservatives in a renewed "grand coalition".
Officials have warned there is no reason to expect Berlin to change its stance on Brexit when a new coalition government is finally formed.
German officials believe a failure to reach a deal with London before Britain's formal departure from the EU in March 2019 will have far more serious consequences for Britain than for the rest of the bloc.
Other concerns
The future of the eurozone and governance reforms proposed by French President Emmanuel Macron are seen as more pressing items for Germany than Brexit.
What about the UK?
Theresa May's Conservative government remains split over what sort of relationship the UK should have with the EU.
Eurosceptics in her party, including foreign minister Boris Johnson, are pressuring her to move the UK away from EU rules. Others, like finance minister Philip Hammond, want to keep the disruption to a minimum.
May is under pressure to agree a transition deal with the EU by the end of March. This will reassure businesses worried that the UK could leave without a deal in March 2019.
After Berlin, May will travel to a security conference in Munich. She will give a speech on future security cooperation between the UK and the EU.
Britain has the largest defence budget of the the EU countries. It hopes that offering to keep some security arrangements in place will win concessions on future trading relations.
Downing Street confirmed security issues are on the agenda for the Merkel meeting on Friday.