Florida shooting suspect Nikolas Cruz charged with murder
Comments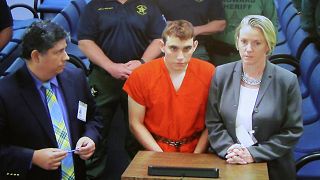 Nikolas Cruz has been charged with murder after one of the deadliest school shootings in recent American history.
The 19-year-old is alleged to have gunned down 17 people with a semiautomatic rifle. The authorities have said the AR-15 used in the attack was purchased legally at a store in Florida.
Family lawyer Jim Lewis said Cruz had brought his own AR-15 along with his other belongings when he moved home.
'Conversation on gun control laws'
According to the New York Times, the AR-15 is easier to buy than a handgun in Florida, and has become a favourite weapon among mass killers.
Broward County schools superintendent Robert Runcie called for more action on gun laws. "Now is the time for this country to have a real conversation on sensible gun control laws," he told a news conference.
His call has been echoed by Democrats in the US House of Representatives, who criticised the Republican leadership for refusing to take up legislation on tightening background checks for prospective gun buyers.
Last year the Republican-controlled Congress revoked Obama-era regulations meant to make it harder for those with severe mental illness to pass FBI background checks for guns, saying the rule deprived the mentally ill of their gun rights.
In his statement on the atrocity on Thursday, Donald Trump made no reference to guns. When asked at the end why such events kept happening in America, he did not answer the question.
FBI had information on YouTube comment
There has been interest in a reported comment on YouTube last year which could have been made by the suspect.
Ben Bennight, from Mississippi, has claimed in a video posted on the channel that he flagged up a suspicious phrase left by a user named "nikolas kruz" last September.
"I'm going to be a professional school shooter," the comment said.
Bennight said he reported it to YouTube and the FBI, who interviewed him the next morning and again visited him after the shooting on Wednesday.
The FBI has investigated and said in a statement that it had been unable to identify the person who posted the comment. It is conducting an extensive review of how it handled the tip-off to see if mistakes were made, a federal law enforcement official told Reuters.
Mental illness?
Cruz, who reportedly suffers from depression, was formerly a pupil at the Marjory Stoneman Douglas High School, but was expelled for undisclosed reasons. One former schoolmate has reportedly said he had been found with bullets in his backpack.
He had recently moved in with another family after his mother's death in November, according to Jim Lewis, a lawyer representing the family, and local media.
The family believed Cruz was depressed, but attributed that to his mother's death, not mental illness.
President Trump has sought to link the crime to mental illness, citing "bad and erratic behavior" for his assertion that there were "so many signs that the Florida shooter was mentally disturbed".
The teenager spoke only to confirm his name in a brief court appearance on Thursday, before he was ordered to be held without bond.
His court-appointed lawyer said he had expressed remorse. "He's a broken human being," public defender Melisa McNeill told reporters. "He's sad, he's mournful, he's remorseful."
Police and former classmates have said he loved guns and had been expelled from high school for disciplinary reasons. People who live on the same street as Cruz said he alarmed them by shooting squirrels and rabbits in the neighbourhood, as well as chickens being raised in a nearby back yard. Several times a year, they observed law enforcement officials at his house, according to Reuters.
"Killing animals was no problem for this young man," said Rhoda Roxburgh, 45, a local resident.
Republic of Florida
The Anti-Defamation League (ADL), a 100-year-old organisation that fights anti-Semitism and injustice, says it spoke to a leader of a white supremacist group called the Republic of Florida. Jordan Jereb, believed to be the group's leader, told ADL that Cruz was associated with the group. The Associated Press corroborated these reports, saying it spoke to Jereb, who said Cruz participated in the group's paramilitary drills. 
Law enforcement officials on Thursday were unable to confirm a link between between the suspect and white supremacists. 
Update: This story was updated to reflect that law enforcement officials on Thursday said they have not confirmed a link between the suspect and white nationalist groups.