Florida shooting victim 'one of the greatest people I knew'
Comments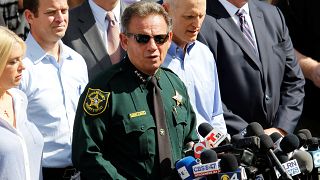 Assistant football coach Aaron Feis is said to have saved students as their Florida high school came under attack. Hailed as heroic, his actions cost him his life.
As new details emerge about what happened inside Marjory Stoneman Douglas High School, Broward County Sheriff Scott Israel spoke of the impact Feis had on the local community.
"I know Aaron personally, I coached with him, my two boys played for him. I don't know when Aaron's funeral is, I don't know how many adults are going to go, but, you'll get 2,000 kids there. The kids in this community loved him, they adored him, he was one of the greatest people I knew, he's a phenomenal man, and I don't know the specifics yet, but I can tell you what, when Aaron Feis died, when he was killed, tragically, inhumanely, he did it protecting others, you can guarantee that, 'cause that's who Aaron Feis was."