Turkish forces push into Syria as Afrin offensive enters fourth week
Comments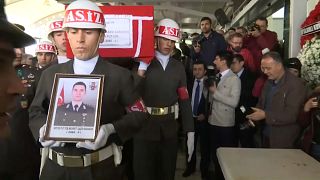 Turkey says it is making steady progress as its military operation against the Kurdish region of Afrin in northwestern Syria enters its fourth week.
Turkish officials say they have captured nearly 50 different strategic locations from the Kurdish militia known as the YPG, including hilltops, villages and a town centre.
But progress towards the town of Afrin has been slow and is complicated by the support the YPG receives from the United States, Turkey's NATO ally.
The Turkish military says it has killed, wounded or captured more than 1,200 YPG fighters.
But it has suffered losses of its own too and the conflict has stirred nationalist sentiment back at home.
Hundreds of people attended funerals this weekend for eleven soldiers killed in a single day of fighting on Saturday.
Ankara views the YPG as an extension of the Kurdistan Workers' Party (PKK), the Kurdish militant group it regards as a terrorist organisation.
The European Union and United States have also designated the PKK, which has fought an insurgency against Turkey for more than three decades, as a terror group.
But the US has taken a different view to the YPG, providing it with weapons in the Syrian group's battle against Islamic State militants.
US National Security Adviser H.R. McMaster held talks with Turkish President Recep Tayyip Erdogan on Sunday amid persistent tensions between the NATO allies over Syria and other issues.
Secretary of State Rex Tillerson is also expected to visit for more talks early next week.