Tension between Turkey and Cyprus over gas search
Comments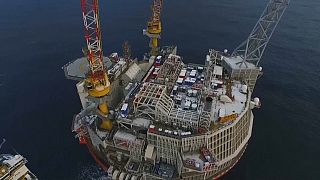 Cyprus has accused the Turkish military of obstructing a ship contracted by Italian oil company Eni from approaching an area to explore for natural gas.
The accusation highlights tensions over offshore resources in the east Mediterranean.
In a statement, Turkey said exploration of the area was a unilateral move by Greek Cypriots that violated the sovereign rights of Turkish Cypriots on the ethnically-split island.
The statement added the Greek Cypriot attitude was why settlement negoations had failed for the past fifty years.
Cypriot President Nicos Anastasiades said Turkey had violated international law by blocking the ship and Cyprus would take "necessary steps", without elaborating. Greek Cypriots, who are exploring for natural gas, run Cyprus's internationally recognised government.
Turkish Cypriots run a breakaway state recognised only by Ankara in north Cyprus and say resources around the island belong to them too.