Watch: Sushi restaurant staff fight back during armed heist
Comments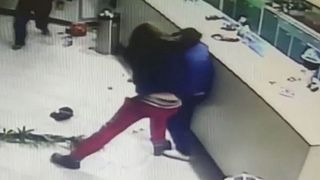 Two armed robbers got more than they bargained for when they targeted a sushi restaurant in the Italian city of Milan this week.
The robbers were captured on CCTV storming into Sushi Fuel late Sunday night, holding up guns at the 35-year-old owner and ordering him behind the counter.
Instead of handing over cash, the owner reached for a knife and charged at the robbers.
Another member of staff also grabbed a knife and stabbed the robbers.
The thieves eventually escaped with €3,000, or a whole week's earnings for the restaurant.
According to media reports, the owner was shot three times in the fight — on the buttocks, chest and face — and taken to hospital for non-critical injuries.
The employee suffered only a minor concussion.
One of the robbers was later arrested at a hospital, where he was seeking treatment for stab wounds, while his accomplice was found in his apartment.