British hacking suspect wins US extradition fight
Comments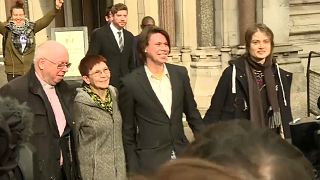 An autistic British hacking suspect won his appeal against extradition to the United States on Monday.
Lauri Love, who has Asperger's Syndrome, is accused of involvement in hacking computers at US government agencies.
But the Court of Appeal ruled extradition would be "oppressive" because of his physical and mental condition.
"This decision obviously affects my life but the reason I have gone through this ordeal is not just to save myself from being kidnapped and locked up for 99 years in a country I have never visited, but it is to set a precedent whereby this will not happen to other people in the future," Love said on emerging from the Appeal Court in London.
"If there is suspected criminality, then it will be tried here in the UK."
Systems at the FBI and Federal Reserve were among those Love was accused of hacking in 2012 and 2013. US authorities say his actions caused millions of dollars of damage.
Charged with multiple offences in three US indictments, he had been facing a life prison sentence in the United States if found guilty, a fate which he has said could lead him to taking his own life.
Lawyers for Love, who also suffers from depression and stress-aggravated eczema, had argued that he was not seeking to avoid justice, and is prepared to stand trial in Britain. 
The Appeal Court ruling indicates that that is what should now happen.
British human rights organisation Liberty was among the voices welcoming the court's decision not to extradite Love to the United States.
with Reuters