Barnier warns Britain over post-Brexit trade
Comments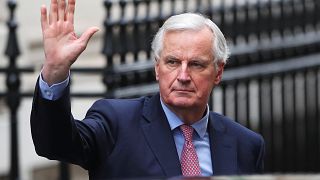 The European Union's chief Brexit negotiator Michel Barnier told Britain on Monday that the time has come for it to make a choice on what sort of relationship it wants with the bloc after Brexit.
He was visiting Downing Street for the latest round of negotiations with his UK counterpart David Davis and a meeting with Prime Minister Theresa May.
As her ruling Conservatives bicker over Britain's future trading relationship with the EU, and whether it should stay in the Customs Union, Monsieur Barnier had this warning.
"Without a Customs Union and outside the Single Market, barriers to trade and goods and services are unavoidable," he said.
"The time has come to make a choice."
The UK government has ruled out staying in any customs union with the EU after Brexit. For David Davis, London's position is perfectly clear.
Britain, Davis said, wants a comprehensive free trade agreement and a customs agreement to make trade as frictionless as possible while being free to strike free trade deals with swiftly growing countries across the world.
Further talks will focus on the transition period around Britain's departure.
But with little more than a year left before it quits the European Union, the clock is ticking.
May will hold two cabinet meetings on Wednesday and Thursday at which she will try to heal the deep divisions among her ministers over the best way to leave the EU.
If no deal is reached by October of this year, many businesses fear Britain could face a disorderly exit that would weaken the West, disrupt the peace in Northern Ireland, imperil Britain's $2.7 trillion economy and undermine London's position as the only financial centre to rival New York.
with Reuters