South Korea steps up security at Winter Games
Comments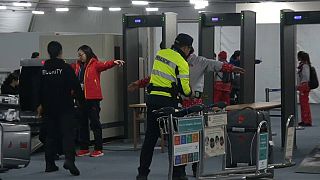 It may be a top flight sporting event, but security surrounding the Winter Olympics is worthy of a military operation.
South Korea has mobilized tens of thousands of security personnel including 50,000 soldiers. And will be assisted by around 100 personnel from the US Diplomatic Security Service.
Measures include specially equipped tactical drones, a network of more than 900 CCTVs equipped with object recognition to detect suspicious packages, and enhanced cybersecurity measures to prevent hacking attempts.
Nearly 3,000 athletes from 92 nations and 100,000 spectators per day are expected in what organizers say will be the largest-ever Winter Games.