Up Helly Aa Viking festival kicks off in Shetland
Comments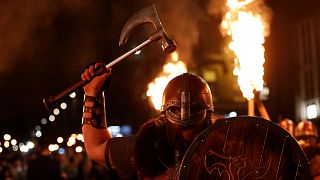 People marched through the streets of Lerwick dressed as Vikings on Tuesday to mark the annual Up Helly Aa festival.
The festival of fire on the last Tuesday in January and marks the end of the Yule season and remembers the Vikings who used to rule the Shetland islands.
The day's events cumulated in the burning of a Viking longship that was built by locals.
To participate as a Viking in the procession (also known as a guizer) individuals must have been a resident in Shetland for five years.
Women participated in some of the other 10 fire festivals held across Shetland but female guizers featured in the Lerwick event.
Wednesday is a public holiday in Shetland following the celebrations.