Hijab protests spread in Iran after anti-government demonstrations
Comments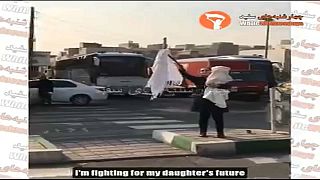 In Iran, protests against the hijab are not new, but after anti-government protests in late December they're gaining momentum and a movement called "WhiteWednesdays" is trending online.
One video posted on social media on Wednesday showed a mother at a busy traffic intersection in Tehran waving a white scarf and shouting out: "We want freedom, we want freedom of dress. We just want our rights back. No to the compulsory hijab."
During December's protests, a woman called Vida Movahedi took off her hijab and stood on Enghelab street, which translates as "Revolutionary Street," in Tehran's university district waving a white scarf.
Movahedi's civil disobedience immediately inspired other women, and since then some have even protested whilst wearing a hijab although still waving a flag. Their point - they are not against women choosing to wear it, but they are against it being compulsory.
"The protest is called "the girls of Revolutionary street" but it can not be considered as a movement yet because of it's scale and form," Euronews Persian journalist Maryam Toosi said.
Toosi added that whilst Movahedi was released this week human rights activists reported that at least one woman was arrested on Tuesday.
"Yesterday we also saw some men joining the "girls of Revolutionary street" protest which is quite significant," she said.
The hijab is not however simply a feminist protest capable of drawing in men too. Since it's a symbol of the Iranian revolution the current mood of defiance in society is also a political problem for the government. It's notable that whilst Movahedi and other have been arrested other women have been left alone.
"It seems that the authorities and police do not want to crack down violently on these protests, but if they spread, they might change their approach," Tootsi said.