Donald Trump praises "strong, safe and proud" America
Comments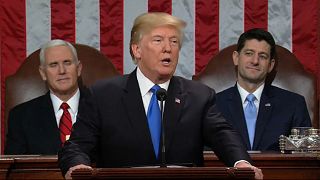 In his first State of the Union speech to Congress, President Donald Trump took the opportunity to hail America's booming economy and stress his desire to work with Democrats.
And he asked the nation to come together too in what he called "One American family."
But mostly he explained that the U.S. was doing better under his administration.
"Together, we are building a safe, strong, and proud America," he said.
"Since the election, we have created 2.4 million new jobs, including 200,000 new jobs in manufacturing alone. After years of wage stagnation, we are finally seeing rising wages. Unemployment claims have hit a 45-year low.
"This in fact is our new American moment. There has never been a better time to start living the American Dream.
Foreign policy
Among the among those watching in Congress were the parents of American student Otto Warmbier, who suffered a fatal brain injury while being held in North Korea. On foreign policy Trump took aim at Pyongyang. He described the regime as "depraved" and said its reckless pursuit of nuclear weapons could soon threaten the United States.
"Past experience has taught us that complacency and concessions only invite aggression and provocation. We need only look at the depraved character of the North Korean regime to understand the nature of the nuclear threat it could pose to America and our allies," said Trump.
President Trump vowed to continue fighting Islamic State militants pointing out the group has lost most of its territory in Syria and Iraq. He also took a swipe at China and Russia branding them rivals in a "new era of global competition".