How did social media react to Trump's State of the Union speech?
Comments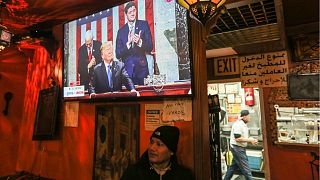 Copyright

REUTERS/Amr Alfiky
US President Donald Trump's first State of the Union address on Tuesday generated a record-breaking 4.5 million tweets.
The president used the maiden speech to talk about his plans for immigration, boast of economic achievements and threaten foreign adversaries.
The 4.5 million tweets far surpassed the previous record for a State of the Union address of 3 million in 2017.
But what were the moments that got people talking? And what were social media users saying?
The most tweeted moments
The top three tweeted moments during Trump's address were:
1. Trump says: "We stand for the national anthem"
Trump told a story about 12-year-old Preston Sharp from California who started a movement to put flags on veterans' graves.
"Young patriots like Preston teach all of us about our civic duty as Americans. Preston's reverence for those who have served our Nation reminds us why we salute our flag, why we put our hands on our hearts for the pledge of allegiance, and why we proudly stand for the national anthem," Trump said.
2. Trump discusses immigration reform proposals
Trump laid out a "four pillar" plan for immigration reform, which he described as a "down-the-middle compromise."
The pillars include offering a path to citizenship for 1.8 million undocumented young people brought to the US as children; building a wall along the Mexico border and hiring more border agents; ending the visa lottery; and ending chain migration.
3. Trump discusses MS-13
Trump recalled the story of two teenage girls who were murdered in September 2016.
"Six members of the savage gang MS-13 have been charged with Kayla and Nisa's murders. Many of these gang members took advantage of glaring loopholes in our laws to enter the country as unaccompanied alien minors ‑- and wound up in Kayla and Nisa's high school," Trump said.
"Tonight, I am calling on the Congress to finally close the deadly loopholes that have allowed MS-13, and other criminals, to break into our country. We have proposed new legislation that will fix our immigration laws, and support our ICE and Border Patrol Agents, so that this cannot ever happen again."
Top tweets
The top five most tweeted about people during the address were:
US President Donald Trump

Former US president Barack Obama

Republican House Speaker Paul Ryan

House Democratic Leader Nancy Pelosi

US First Lady Melania Trump
The most retweeted tweet during the address was one from Trump sharing a live feed of his speech.
Reactions
Trump's speech generated both positive and negative reactions. Here are some of the most popular tweets about the address: