Delegates at Syrian peace conference announce progress
Comments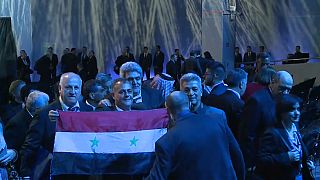 Delegates at a Syrian peace conference in Sochi have called for respect for the country's territorial integrity and said the Syrian people alone should decide the shape of their government.
The conference agreed to create a constitutional committee which will work in Geneva and a list of 150 participants has been drawn up: Two thirds from the government side and one third representing the opposition.
Russia's special envoy on Syria Alexandre Lavrentiev told Euronews what had been achieved:
He said: "The main result of this Congress is the reloading of the political process, so it could really help Staffan de Mistura to find a rational element in order to relaunch the constitutional reform. Because all the previous efforts on this were useless."
The final decision on who will work on the constitutional reform will be taken by UN envoy, Staffan de Mistura.
Euronews reporter in Sochi, Galina Polonskaya, summed up what the conference had been about. "The uneasy dialogue has happened in Sochi," she said.
"The list of the candidates to the Constitutional Commission will be given to Staffan de Mistura. The Congress asked the UN to speed up the process of reform. But no deadline has yet been given."