Puigdemont insists he's the only viable candidate for Catalan presidency
Comments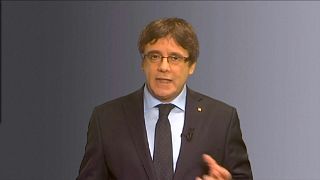 After the speaker of the Catalan parliament postponed plans to invest Carles Puigdemont as president, the former leader has insisted that the Spanish government must not be allowed to take control.
Earlier, Roger Torrent said that, despite the postponement, the ex-president remains the only candidate able to form a government.
The government in Madrid has said it will not allow Puigdemont to return to office but the former president remained defiant.
"The decision of the people of Catalonia on the 21 december is unappealable," he said.
"We don't want Article 155, allowing Madrid to take temporary control of Catalonia.  We don't want to be forced to apply policies that don't represent the will of the citizens.  We don't want to continue to be oppressed and persecuted because of our ideas."
Large numbers of pro-independence protesters demonstrated outside the parliament building on Tuedsday afternoon in support of Puigdemont.
The latest situation follows a court ruling that the session would be suspended unless Carles Puigdemont attended in person with the approval of a judge.