Catalan Referendum - one year on
Comments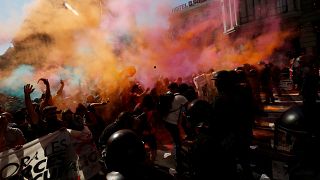 For Catalan separatists, 1st October 2017 was supposed to be their Independence Day but a year on from that referendum – separatists are calling on protesters to "flood" the streets of Barcelona once again.
Violent scuffles over the weekend saw 14 people injured and 6 arrested after a pro-independence rally blocked a police march. Chanting - 'get out of here fascists' – coloured powder was thrown by demonstrators as police kept the crowds back with batons.
The clashes mirrored scenes from a year ago when those calling for independence took to the streets with signs and slogans as they kicked off what arguably would become Spain's biggest political crisis in decades.
Madrid quickly declared the referendum illegal – but polling booths opened anyways.
Shortly before 8 pm on voting day, the Catalan Parliament called on its citizens to vote – at any school in the region but soon after - national police and civil guard were deployed to block the vote. When polls opened at nine o'clock, tensions were already sky-high.
In San Julià de Ramis, where Catalonia's then-President Carles Puigdemont was going to vote, the fighting started and Puigdemont was forced to cast his ballot at a different school in Girona province.
As images of police violence spread through social media. The Government of Mariano Rajoy declared it an "electoral embarrassment".
Spanish authorities said more than 300 people had been injured by police - and blamed the Catalan government for it. Federal police brought in reinforcements and police unions said they would punish Catalonia's own civil guard – for behaving in a way they described as "scandalous".
Catalan authorities put the number of injured at more than 800 - and said 34 police officers and civil guards were hurt. The veracity of the Catalan numbers was questioned by Madrid.
Then Spanish Prime Minister Mariano Rajoy defended his government's actions -"We have not attended any kind of consultation, but a mere staging. This is one more episode of a strategy against democratic coexistence and legality" he said in a press conference.
But Catalonia's government told supporters the day's events proved they had earned the right to an independent state.
12 months on from the vote – the man responsible for bringing the vote to the table – Former Catalan President Carlos Puidgdmont remains exiled in Belgium –
Mariano Rajoy – who sacked Catalans pro-separatist government – is no longer Prime Minister of Spain. And Catalan's new parliament continues to call for a fresh vote.