Belgian court refuses Spanish extradition request for rapper Valtonyc
Comments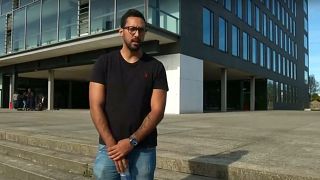 A Belgian judge has rejected a European Arrest Warrant against a rapper accused of insulting Spain's royal family and other offences.
Josep Miquel Arenas, who is known by the stage name Valtonyc, will not be sent back to Spain, where he is accused of writing lyrics that praise terror groups, threatening a Spanish politician with violence and insulting the royal family.
Valtonyc was supposed to turn himself in voluntarily in May to Spanish authorities, where he faces prison sentences totaling three and a half years, but instead fled to Belgium.
His lawyer Simon Bekaert said that "the judge has decided there will be no extradition and discarded all three charges." Bekaert told reporters that the judge ruled "There is no terrorism involved, so there is no question of a crime according to Belgian law."
"I think it sends a message to Madrid, to the Spanish justice system, that they have to stop abusing the European arrest warrant, which is a very good tool as such but it is not meant for cases like that and it's not meant for helping Spain in prosecuting people just for having an opinion."
The Belgium justice system does not consider Valtonyc's lyrics a threat to the Spanish Crown.
"How that relates to insults to royalty, (the judge) said that royalty had to be exposed to critics and that the insults can be interpreted different to the song," Valtonyc told Euronews.
He also said that the reference to terrorism was not a crime because national terrorism doesn't exist right now in Spain.
"As for the death threats, he said there had to be a condition for it to be a threat like: "I'll do this to you if you don't do this other thing."
However, during his original trial in Spain, courts dismissed Arenas' argument that the point of rap lyrics is to be provocative and they should, therefore, be protected by free speech laws.
Valtonyc told Euronews that even though he's very happy about the sentence, the fight doesn't stop there: "I'm very happy that justice was made, that real justice was made. It's not politicised justice or influenced by an ideology and now we have to go further, we'll go to the European Court of Human Rights, see what keeps happening in Belgium and create a precedent in Spain."
"We'll see if this serves as a lesson for Spanish justice and if they start applying a more European justice that's less like the Franco regime."
Late last year, Spain dropped a European arrest warrant against former Catalan leader Carles Puigdemont after Belgian authorities refused to recognize some of the Spanish charges against him.
Valtonyc's case has rallied organisers in Spain who claim the authorities are cracking down on free speech.
The European Court of Human Rights dismissed the Spanish judiciary for protecting the royal family and sided earlier this year with two Spaniards who set fire in public to a photograph of King Felipe VI and Queen Letizia. The court argued that their protest amounted to freedom of speech.