Michelin accepts French chef giving up stars for first time
Comments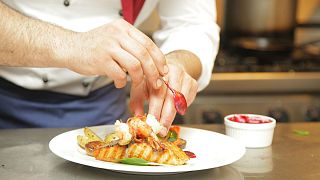 French chef Sébastien Bras, 46, has given up his three Michelin stars, marking the first time the culinary giant has allowed a restaurant to be removed from its books.
The lauded chef, son of Michel Bras, announced in September that he wanted to relinquish the accolades held by his rural restaurant in Le Suquet à Laguiole, the south of France.
He and his father maintained the three stars, considered by many as the highest honour a restaurant can achieve, for nearly two decades but Bras jr. said he no longer wanted to cook with the "huge pressure" of being judged by its inspectors.
"This was a beautiful challenge and a source of great satisfaction... but there's a huge pressure as a result of our three-star status, which we've held since 1999. Today, we want to proceed with a free spirit and without stress, to offer a cuisine and service that represents that spirit and our land," he told French newspaper Le Monde.
Bras made reference to deceased chef Bernard Loiseau in a Le Figaro interview, whose 2003 suicide was reportedly linked to claims his restaurant might lose one of its three stars.
Bras said he "is not in that kind of headspace," but that it demonstrated the huge pressure of maintaining a restaurant's rating.
This is the first time Michelin has ever allowed any chef to withdraw from its books.
"It is difficult for us to have a restaurant in the guide which does not wish to be in it," Michelin spokesperson Claire Dorland Clauzel told AFP news agency. She said other restaurants had dropped out when chefs retired or the concept had changed.
Other chefs who have 'renounced' their stars
Marco Pierre White, the youngest chef to ever achieve the coveted three-star status, famously renounced his stars in 1999 and retired from cooking at his self-titled restaurant.
In 2005, Alsace-based chef Philippe Gaertner gave back his stars, writing to Michelin months later to say that he was changing his menu and would no longer compete to keep the star status, according to the New York Times.
Of Paris' elite chefs, Alain Senderens also gave up his stars in 2015 and chose to close and revamp the formerly-three-star Lucas Carton restaurant.
"I don't want to feed my ego anymore. I am too old for that. I can do beautiful cuisine without all the tra-la-la and chichi, and put the money into what's on the plate," he told the New York Times.