Three middle-aged women take on the 'world's toughest rowing race'
Comments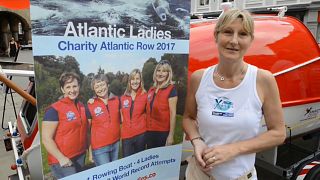 Three middle-aged women from Shropshire are taking the rowing world by storm, the only all-female crew in what's billed as the world's toughest rowing race, the Talisker Whisky Atlantic Challenge, in its 4th edition.
Dubbed the "Atlantic Ladies" four friends got the project seaworthy in a bid to raise money for charity, although only three have decided to take on the Atlantic Ocean, from where they gave Euronews this exclusive phone call after weeks at sea.
Teammate Diana Carrington, 60, will be the oldest Transatlantic rower if the ladies stay the course until mid-February. Elaine Theaker completes the crew. Thirteen teams have finished already with the race won by Britain's The Four Oarsmen. The ladies are last but determined to finish.
"We are very much dependent on the weather as to how quick we go. We are trying to get between 45-50 miles a day rowing in. I have mentioned isolation one of the hardest things, but the other thing that has been quite difficult at the beginning was seasickness. Elaine and Di in particular at the beginning were very, very seasick and it took probably about 30 days to get them to eat.
Generally, on the whole, we are doing it to inspire particularly other ladies of our age, because we are kind of in menopause, where you very easily kind of put your feet up and generally not exercise quite so much, so we just want to inspire people to try something new and challenge themselves and in particular, you know, to keep physically fit and healthy. And obviously the other thing we are doing this is raising money for our charity," said team member Sharon Magrath, 54, the youngest member."