Two Pussy Riot members 'seek asylum in Sweden'
Comments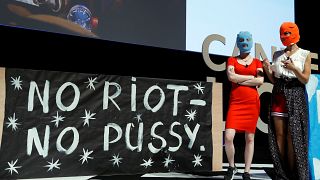 -
Copyright

REUTERS/Eric Gaillard
Reports from Sweden say that two members of Pussy Riot have sought asylum in the country, complaining of persecution in their home country, Russia.
The pair from the protest punk group revealed the news to national broadcaster SVT, according to The Local Sweden.
Lusine Djanyan and Alexei Knedlyakovsky (whose name also appears as Aleksej Knedljakovskji) are said to be living in a home for asylum seekers in Lindesberg along with their son, awaiting a decision from the Swedish Migration Agency.
The report says they have been in the country for 10 months and are hoping for a ruling soon.
Pussy Riot achieved overnight fame in 2012 after a performance in a Catholic church in Moscow mocking President Vladimir Putin. Three members were arrested, with two of them jailed for two years for "hooliganism motivated by religious hatred".
Artwork by Djanyan and Knedlyakovsky was reportedly included in an "Inside Pussy Riot" exhibition put on display late last year at London's Saatchi Gallery.
In late 2016 Knedlyakovsky was one of two activists jailed for 15 days for allegedly attaching a wooden crucifix to a memorial to a Soviet era secret police chief.