Germany's SPD back coalition talks in narrow vote
Comments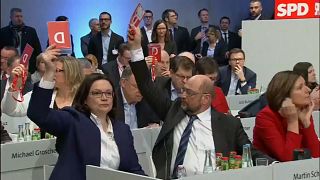 Germany's centre-left Social Democrats have narrowly voted for coalition talks to begin with Chancellor Angela Merkel's conservatives.
Fifty-six percent of SPD delegates gave their backing based on a blueprint agreed earlier this month.
Leader Martin Schulz said the talks would start immediately:
"Today, it's not just about whether we're entering coalition negotiations. No. Rather today we finally decide which direction our country and Europe are going. And that's why I say that today as well, our European neighbours and friends in the world are looking to us here in Bonn. We can make a real difference to Europe if we want to."
With her eye on a fourth term as chancellor, Merkel wants the SPD to agree to a re.run of the "grand coalition" thst has ruled Europe's economic powerhouse since 2013.
"The blueprint of exploratory talks form the basis for formal coalition negotiations, and there are of course multiple issues which still need to be clarified in detail and that will surely require intensive deliberation," said Chancellor Merkel.
Both parties suffered heavy losses to the far-right in a September vote and Merkel has been weakened further by the collapse in November of three-way coalition talks with other parties, raising questions about her future.
.