German 'grand coalition' talks begin
Comments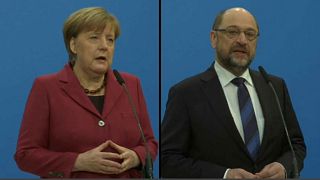 In Berlin, Angela Merkel's Christian Democrats (CDU) have embarked on another round of talks to try to form a government.
This time its with Martin Schulz's Social Democrats (SPD). Merkel's turned to the centre-left party after earlier talks with the Greens and the Free Democrats.
If negotiations are a success, the two parties will form a "grand coalition".
Optimistic and determined
Speaking at the opening of the talks, Merkel expressed optimism about the likely outcome:
"My main concern is that we should work out even more clearly what the future trends in Germany will be. We will make sure that we negotiate quickly. I believe that people now really expect us to move in the direction of forming a government. And that's why I'm optimistic, but also very determined that we should achieve results in these talks. And I believe that this is also feasible in a relatively short period of time. "
Having persuaded his party to enter negotiations by a slender margin, Martin Schulz was keen to justify the SPD's participation:
"Our aim is that the Federal Republic of Germany should become fairer and more modern - especially in education policy - and, above all, a leading force in the European Union at the international level. With this will and in this spirit, we are entering into coalition negotiations."
The SPD starts talks on the back foot. Recent polls suggest its support has dropped to just 19 per cent of the electorate.
Time is running out
More than 120 days have passed since last year's elections in which Merkel failed to secure an outright majority.
It's thought this could be her last chance to forge a coalition deal.