German parties make final push to revive grand coalition
Comments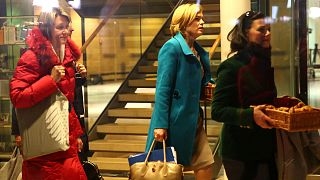 Copyright

REUTERS/Christian Mang
German Chancellor Angela Merkel's conservatives and the centre-left Social Democrats (SPD) will renew efforts to form a "grand coalition" and end months of uncertainty.
One SPD member said "Tuesday will be the decisive day as to whether the talks will be successfully concluded or not."
The Rheinische Post newspaper, citing an internal SPD schedule, reported that Merkel, the leader of her Bavarian allies Horst Seehofer and SPD chief Martin Schulz wanted to present a final coalition agreement on Tuesday.
Over the weekend they agreed to invest more than two billion euros in social housing by 2021.
The parties also reached an accord to seek fairer corporate taxation in Europe, including for Internet giants like Google, Apple, Facebook and Amazon,
But healthcare and labour reforms are the final obstacles to overcome to prevent Germany from facing a second election within four months.