German nurse is charged with 97 new murders
Comments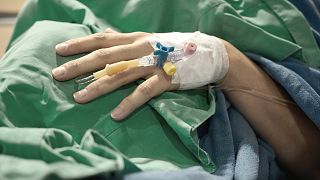 A male nurse in Germany has been charged with 97 new murders, two years after being jailed for life for killing two patients "out of boredom".
The man, known as Niels H. under German reporting rules, could become the country's deadliest serial killer if convicted.
Police have dubbed the case as post-war Germany's worst killing spree.
An investigation into Niels' murders was widened after he talked about killing up to 30 people during his trial in 2015. He admitted to giving patients lethal injections at two clinics in northern Germany, before trying to resuscitate them to play the hero and gain praise.
He said he felt euphoric when he managed to revive patients he had drugged.
A criminal probe, which involved the exhumation of over 130 bodies, found 97 people were given fatal doses of heart medication: 35 at a clinic in Oldenburg and 65 in Delmenhorst.
Prosecutors said in a statement: "From the prosecutorial point of view, the accused Niels H. accepted, at least tacitly, in all cases the death of the patients due to the effects of the drugs."
They added that the nurse would have been aware that the drugs would cause heart abnormalities in his patients, leading to heart failure, circulatory collapse and death.
The names of the victims have not been released.
Niels first aroused suspicions when death and resuscitation rates rose during his shifts at the Oldenburg clinic, where he worked from 1999 to 2002.
The health went on to work at Delmenhorst in 2003, but it wasn't until 2005 that a colleague caught him injecting a patient who went on to develop an irregular heartbeat. The patient survived and Niels was arrested. In 2008, he was jailed for seven-and-a-half years for attempted murder.