Footage shows deadly hotel blaze in Prague
Comments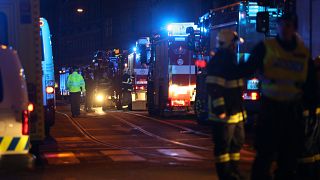 This is the shaky footage from the scene of a deadly fire in the Czech Republic.
The blaze, which broke out at Eurostars David Hotel in Prague on Saturday evening, has now left four people dead.
The video shows people sitting on a first-floor ledge as smoke billowed out of the building and rescuers attempted to help them down.
Two people were confirmed dead yesterday: a man from Germany and a woman from South Korea, both in their early 20s.
A hospital spokesman added two women died from their injuries on Sunday.
Police said investigations were investigating how the blaze broke out at the hotel, which is situated on a narrow street near the Vltava River and Prague's Theatre
Rescue officials earlier said 40 were injured, although Czech media reported that most were treated for smoke inhalation on the spot and not taken to hospital.