At least four people dead following a fire at hotel in central Prague
Comments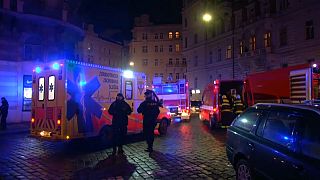 A forth person has died from their injuries following in a fire at a hotel in central Prague.
The blaze broke out on Saturday evening at the Eurostars David Hotel, situated on a narrow street a block away from the Vltava River and near the Czech capital's National Theatre.
The cause of the fire is still being investigated.
Two people died on Saturday and were identified by police on Sunday as a German man born in 1996, and a South Korean woman born in 1997.
A hospital spokesman said two more people who died on Sunday were women, but police are yet to identify them.
Four other people injured in the fire remain in hospital, but their conditions are unclear.