Busted: cocaine-filled pineapple ring
Comments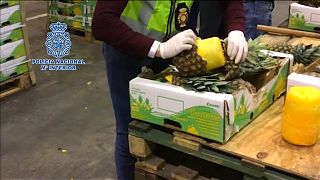 Police in Portugal and Spain have seized over 700 kilograms of cocaine hidden inside fresh pineapples.
The drug was covered in yellow wax, then wrapped in pineapple skins and shipped from South America, the Spanish interior ministry said on Wednesday (January 17).
The seizure, from shipping containers, was part of an ongoing investigation across both countries that started in April 2017.
Police also arrested nine people and dismantled a laboratory where the drug was cut with additives. An international investigation is underway.
Spanish authorities said the gang members, led by two Colombian brothers, had laboratories in the municipalities of Pinto and Nuevo Baztan near the capital Madrid.
The gang stored their cocaine in Terrassa, near Barcelona, before transporting it to their Madrid laboratories every 15-20 days, police said in a statement.
The Iberian Peninsula is a major entry point for cocaine and other drugs to Europe, either directly from Latin America or via North and West Africa.