May and Macron to sign Calais border treaty
Comments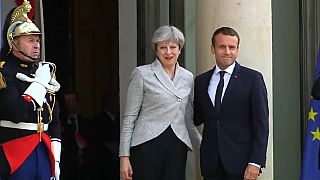 French President Emmanuel Macron is to attend a summit in Britain with British Prime Minister Theresa May where the issue of migration tops the agenda.
The two leaders are to sign a treaty increasing the UK's contribution towards preventing migrants in Calais from crossing the Channel.
The agreement will "complement" the 2003 Le Touquet border accord which moved the British border to France.
Macron has said France can no longer be Britain's "coastguard" without concessions.
The two are also expected to commit to joint military operations including a combined expeditionary force.
Britain will pledge to send three Chinook helicopters to Mali to provide logistical support for a French counter-terrorism operation and to participate in a new European defence initiative, the European Intervention Initiative.
France, in turn, has committed to contribute troops to British-led NATO forces in Estonia in 2019.
The French president is in a strong position to use the summit to his advantage as May is seeking at least "good will" if not support from him over Brexit.
But both leaders are already stressing that Anglo French relations go beyond Britain leaving the EU.