California torture house: 13 siblings allowed to eat once a day, shower twice a year
Comments
By Daniel Arkin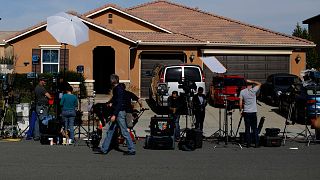 The 13 starving siblings held captive in a California house were allowed to eat only one rationed meal a day and shower just twice a year, a law enforcement official with knowledge of the case told NBC News.
Those disturbing details emerged just hours before David Allen Turpin, 57, and his wife, Louisa Anna Turpin, 49, were expected to make their first court appearance. They face possible torture and child endangerment charges.
Their home in Perris, a city in Riverside County east of Los Angeles, was a veritable prison, where some of the couple's 13 children, ranging in age from 2 to 29 years old, were chained to furniture, officials have said. The rooms inside the brown-and-beige four-bedroom house were filled with urine, the law enforcement official said.
All of the children have been admitted to hospitals for treatment for severe malnutrition. They are receiving antibiotics, vitamins and nutrients, the law enforcement official said. Doctors were concerned about the kids going into shock since they are so malnourished. Psychologists will be brought in to evaluate them when their physical conditions improve, the official added.
The Turpins, who are being held on $9 million bail, had little contact with their family in West Virginia, and shocked relatives have said they had no idea what the couple was allegedly doing.
"They were just like any ordinary family," said Betty Turpin, the 81-year-old mother of David Turpin. "And they had such good relationships. I'm not just saying this stuff. These kids — we were amazed. They were 'sweetie' this and 'sweetie' that to each other."
Betty Turpin told another outlet her son told her he had so many kids because God wanted him to, and that he shared her Pentecostal Christian faith but was not affiliated with a church in California.
"I feel they were model Christians," she told the Southern California News Group on Wednesday. "It's hard to believe all of this. Over the years, the Lord knows what happened."
Louise's sister, Teresa Robinette, said she was not in touch with her sibling but had no reason to suspect trouble. "We always thought she was living the perfect life," she said in an interview conducted in Knoxville, Tennessee. "She would tell us they went to Disneyland all the time, they would go to Vegas."
Investigators are trying to determine if religion played a part in the imprisonment and alleged torture of the Turpin children, according to the law enforcement official. The minor children have been polite and cooperative, but they have not been able to provide statements, the official said. Investigators are still trying to obtain statements from the adult victims.
The secret of the house on Muir Woods Road began to spill out on Sunday when the Turpins' 17-year-old daughter escaped through a window and called 911 with a cellphone she took from the home, the Riverside County Sheriff's Department said. She is believed to have a mental capacity below her age, the law enforcement official said.
"Further investigation revealed several children shackled to their beds with chains and padlocks in dark and foul-smelling surroundings, but the parents were unable to immediately provide a logical reason why their children were restrained in that manner," the department said in a statement.
It was only after freeing them that deputies discovered that seven of who they thought were severely emaciated kids, were actually adults "ranging in age from 18 to 29."