What happened when politicians called for commemorative Brexit stamps?
Comments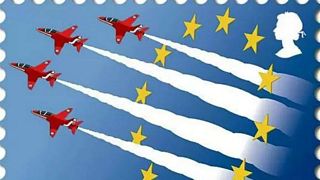 Senior pro-Brexit politicians in the UK have been pleased to back a campaign by The Sun newspaper for commemorative Brexit stamps to be issued to celebrate the country's exit from the European Union in March 2019.
This comes even though Royal Mail has said it has no plans for such stamps, a decision backed by the government minister responsible for postal services.
Some have pointed out that special stamps marking the UK's entry into the then European Economic Community (EEC) were issued in 1973.
British Foreign Secretary Boris Johnson, Trade Minister Liam Fox, Environment Minister Michael Gove and House of Commons leader Andrea Leadsom have all supported The Sun's call for Brexit stamps.
However, virtually all the suggested designs doing the rounds on the internet may not be the sort of thing they have in mind.
Indeed, the campaign - and the ridicule it has provoked among Brexit opponents - illustrate perfectly the ongoing divisions between Leavers and Remainers.
While Brexit stamps have yet to see the light of day, adverts for commemorative coins to celebrate the UK's departure from the EU have appeared on the internet.