Thousands evacuated as Philippine volcano nears eruption
Comments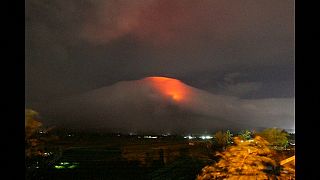 Images have been posted on social media showing bright orange magma building up at the summit of a Philippine volcano.
Mount Mayan has been emitting ash, mud and rocks over the weekend.
More than 9,000 people have evacuated nearby villages around the Philippines' most active volcano as lava flowed down its crater on Monday in a gentle eruption that scientists warned could turn explosive.
The Philippine Institute of Volcanology and Seismology (Phivolcs) raised the alert to level 3 on Sunday night, warning an eruption is likely.
The 2,462-metre (8,077-foot) high volcano is a popular tourist attraction in the central Albay province because of its near-perfect cone shape.
Mayon's most destructive eruption was in February 1841, when lava flows buried a town and killed 1,200 people. It last erupted in 2014, spewing lava and forcing thousands of people to evacuate.
Manila's airport authorities said airline Cebu Pacific had cancelled flights to nearby Legazpi City for a second day on Monday, citing bad weather.