Philippines picks up pieces after deadly storm
Comments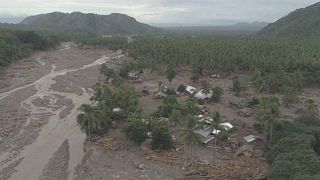 The Philippines is slowly coming to terms with the devastation left by tropical storm Tembin.
The village of Lanao Del Norte in the southern region of Salvador was almost entirely wiped out by flash flooding and landslides. Dozens of people in the area were killed.
The Red Cross is working with victims in the disaster zone by providing relief to those affected.
One woman from the village described the moment the storm hit: "I didn't have time to go back and get my belongings. I could only run to higher ground to take shelter. I didn't bring anything, I wasn't even wearing proper clothes. I only wore a malong dress. I didn't get the chance to take anything, because there wasn't time for any of that."
More than 230 people in the Philippines are confirmed dead with officials expecting that number to rise.
Over 70,000 others have also been left homeless and are now housed in temporary shelters. The storm started lashing the Philippines last Friday and is said to have taken many people by surprise.
China and Japan have reportedly offered emergency relief. The Chinese Foreign Ministry said it was willing to help in the reconstruction of the thousands of homes that had been destroyed in the storm.
The Philippines is located in a disaster prone area, which means the country is vulnerable to earthquakes, typhoons and tsunamis. The Southeast Asian country experiences at least 20 tropical storms and cyclones every year. Storm Tembin was not considered one of the worst the country has gone through, but it did destroy infrastructure and agriculture worth millions of dollars.