France's first panda makes public debut
Comments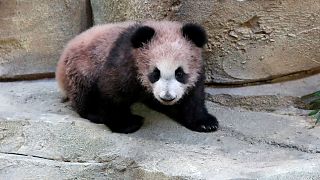 The first giant panda cub to be born in France made its public debut this weekend, five months after its birth.
People from across the country travelled to Beauval Zoo in central France on Saturday to see the 11-kilogram cub for the first time.
Yuan Meng, or 'making a dream come true' in Chinese, was named in a ceremony in December.
His parents are on loan to the zoo from China as part of a reproduction programme, and he was born via artificial insemination.
His parents are due to return to China in 2022, while Yuan Meng is expected to stay in France until the age of two or three, when he will be sent to a Chinese panda reserve.
French First Lady Brigitte Macron, who has been named the panda's 'godmother', said he is a symbol of historic ties between the two countries.
Reproduction between pandas is notoriously difficult and the species was declared endangered in the 1980s.
However, conservation efforts have boosted their numbers, and they were downgraded from 'Endangered' to 'Vulnerable' on a global list of species at risk of extinction in 2016.
The International Union for Conservation of Nature (IUCN) said there had been a 17 percent rise in the population in the decade up to 2014, when a census found 1,864 giant pandas in the wild in China.