These are the questions Twitter wants Farage to #AskBarnier
Comments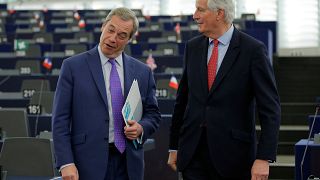 -
Brexit campaigner Nigel Farage took to Twitter on Friday to ask for questions to put to EU negotiator Michel Barnier after securing a meeting with the Frenchman.
To help him choose from among the thousands of responses he received, Euronews has selected the most popular suggestions. We have excluded those which include unsubstantiated assertions.
Here is a list based on two searches using Tweetdeck.com at 7:30am CET on Jan 8 filtering replies to @Nigel_Farage and Tweets using #AskBarnier which had more than 50 reTweets.