#AskBarnier: Farage reveals questions he'll ask Barnier ahead of meeting
Comments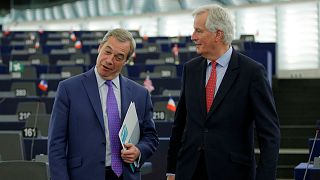 Copyright

REUTERS/Vincent Kessler
Pro-Brexit MEP Nigel Farage revealed on national radio station LBC, the three questions he'll ask the EU's chief negotiator Michel Barnier ahead of their meeting on Monday (January 8), as chosen by Twitter users. 
Does Michel Barnier understand why Britain voted for Brexit? (Paul William-Smith)

What happens to the EU's economy if there's no trade deal with Britain? (Sergio)

How does Michel Barnier view mass immigration into the EU coming across the Mediterranean and elsewhere? (James)
Farage asked Twitter users on January 4 to send him questions he could ask Barnier. The call was quickly heeded, as a barrage of tweets—some cheeky, some crude—stirred debate yet again around issues they found important in Brexit negotiations. 
Here's a summary of the most popular themes and what pro- and ant-Brexit tweeters said about them.