Syrian forces break rebel siege of army base
Comments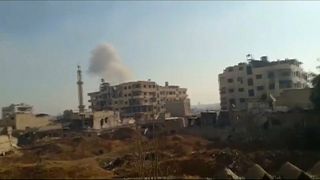 Syria's army has broken the siege of a military base which had been encircled by opposition forces on the eastern outskirts of Damascus.
Army elite troops, backed by Russian jets, launched an offensive after last Sunday rebels widened their control in the eastern Ghouta town of Harasta.
Around 200 Syrian government peronelle were believed to have been trapped in the base.
Extensive bombing and violent clashes were reported as Syrian government forces fought their way into the area.
Rebel forces had stormed the base last week in a bid to relieve pressure Eastern Ghouta's towns.
Until then it had been used by government troops to strike at densely populated rebel-held areas where 300,000 people have lived under siege by army troops since 2013.