US signals deeper commitment in Syria
Comments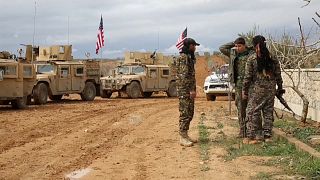 American troops will be staying in Syria for the foreseeable future to prevent a resurgence of Islamic State militants, curtail Iran's influence and help pave the way to democracy, US Secretary of State Rex Tillerson said on Wednesday (January 18).
Tillerson said remaining in Syria would help ensure that the Trump administration does not repeat what he called the mistakes of former President Barack Obama.
The United States currently has about 2,000 ground forces in Syria. While Tillerson said the US military commitment in the country would be "conditions-based" and not indefinite, he stressed it would take time to obtain President Bashar al-Assad's departure from power.
"We cannot make the same mistakes that were made in 2011 when a premature departure from Iraq allowed al-Qaida in Iraq to survive and eventually morph into ISIS," Tillerson said in a speech at Stanford University.
"It was that vacuum that allowed ISIS and other terrorist organizations to wreak havoc on the country."
A U.S. disengagement would also provide Iran with an opportunity to reinforce its position in Syria, he warned.
Tillerson promised help on the ground – clearing landmines and restoring utilities ravaged by nearly seven years of war – and within the United Nations, where Washington would strive to secure a Syrian peace process as well as free elections.
Calling for patience
As a candidate, Donald Trump was critical of his predecessors' military interventions in the Middle East, but as US president, he has had to commit to an extended presence in Afghanistan and, now, Syria.
Tillerson said free, transparent elections in which the Syrian diaspora participate "will result in the permanent departure of Assad and his family from power. This process will take time, and we urge patience in the departure of Assad and the establishment of new leadership," he said.
"Responsible change may not come as immediately as some hope for, but rather through an incremental process of constitutional reform and U.N.-supervised elections. But that change will come."
Tillerson said Washington would "vigorously support" U.N. efforts to end the conflict, a so-far stalled process, and called on Russia, a key ally of Assad, to "put new levels of pressure" on the Syrian government to "credibly engage" with U.N. peace efforts.
The U.N. Special Envoy for Syria said earlier on Wednesday he had invited the Syrian government and opposition to a special meeting next week in Vienna.
'No border force'
Tillerson denied Washington had any intention to build a security force at the Syria-Turkey border. He said the issue, which has infuriated Ankara, had been "misportrayed."
"Some people misspoke. We are not creating a border security force at all," Tillerson said aboard the aircraft taking him back to Washington from Canada, where he hosted a meeting on North Korea. "I think it's unfortunate that comments made by some left that impression. That is not what we're doing."
Ties between Washington and Ankara have lately been strained over U.S. support for the Syrian Democratic forces, led by the Kurdish YPG militia, fighting ISIL in northern Syria. Turkey considers the Syrian YPG as an extension of the Kurdistan Workers' Party (PKK) militant group, which has fought a bloody insurgency in southeast Turkey for more than three decades.