New faces expected in imminent UK cabinet reshuffle
Comments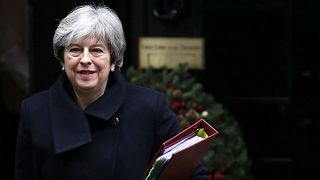 -
Copyright

REUTERS/Simon Dawson
Theresa May said on Sunday (Jan. 7) she intends to remain Britain's Prime Minister as long as people want her, and that she will be reshuffling her cabinet "soon".
Speaking on BBC'S Andrew Marr show, she noted that her deputy's departure before Christmas meant "some changes do have to be made, and I will be making some changes."
May ousted Green for lying about pornography found on his office computer. His successor will have to try to maintain unity in a cabinet deeply divided over Brexit.
There has been speculation May could move Foreign Secretary Boris Johnson to a bigger role that could marginalise Brexit secretary David Davis.
But several newspapers now report that Davis, Johnson, Chancellor Philip Hammond and Home Secretary Amber Rudd - four of May's most senior ministers - will remain in post.
Education secretary Justine Greening is being tipped as the most prominent casualty in the reshuffle, expected to start on Monday.
The Sunday Times said the changes aim to bring younger women and more diversity into the cabinet, to dust off the Tory image as "pale, male and stale."