Defending Donald: Theresa May says Trump is committed to US interests
Comments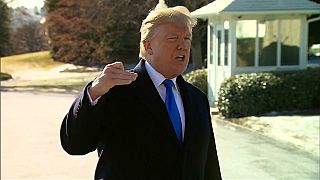 The UK prime minister has said she believes US President Donald Trump is committed to the best interests of the US.
Theresa May** **was asked about accusations in a new book that he is mentally unfit for office.
"When I deal with President Trump, what I see is somebody who is committed to ensuring that he is taking decisions in the best interests of the United States," May** **said in an interview.
She also added that Trump would be visiting Britain, as planned, without giving any new details of his trip.
The US embassy in London has told Euronews- NBC that the visit will take place at some stage. Full details will come from the White House when the arrangements have been finalised.
What is the context?
Claims made in a highly-critical new book.
Trump has rejected accusations made by author Michael Wolff, who was given wide-ranging access to the White House during much of Trump's first year.
He says his business career and election victory show he is a "very stable person".
He has dismissed the book as full of lies. It depicts a chaotic White House and a president who was ill-prepared to win office in 2016. Trump aides, it is claimed, scorned his abilities.
Trump took to Twitter late on Friday night to deny the claims and renew his attacks on Wolff and his former top aide Steve Bannon, who was quoted in the book.
"Oh, my God! He has no clothes!"
The author says his revelations are likely to bring an end to Trump's time in the White House.
Michael Wolff said in an interview that his conclusion in "Fire and Fury: Inside the Trump White House" - Trump is not fit to do the job - is becoming a widespread view.
"I think one of the interesting effects of the book so far is a very clear emperor-has-no-clothes effect," Wolff said.
"The story that I have told seems to present this presidency in such a way that it say he can't do his job. Suddenly, everywhere people are going 'oh my God, it's true, he has no clothes'. That's the background to the perception and the understanding that will finally end this presidency."
Wolff also hit back at claims the book is untruthful.
"This is what is called reporting. This is how you do it. You ask people, you get as close as you can to the event, you interview the people who were privy to the event, you interview other people who were privy to the event, you come to know the circumstance as well as anybody and then you report it."