Former EU commissioner Peter Sutherland dies aged 71
Comments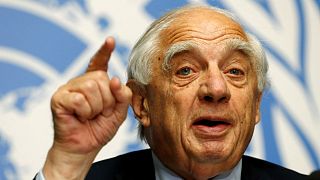 Copyright

REUTERS/Denis Balibouse/File Photo
Former EU commissioner and World Trade Organization director Peter Sutherland died on Sunday aged 71.
The barrister, who was Ireland's youngest attorney general and then youngest European Union commissioner during the 1980s, had been ill for some time before his death.
In a statement, his family said the international statesman suffered a cardiac arrest in September and had been in hospitals in London and Dublin ever since.
"Despite great efforts by his medical staff and his own indomitable spirit, he succumbed to an infection."
Born in Dublin in 1946, Sutherland was appointed, at the age of 35, as the state's most senior lawyer. Four years later he was nominated as Ireland's EU commissioner.
He was also a long-serving chairman of oil giant BP and the overseas arm of Goldman Sachs.
Most recently, he worked as the United Nations special representative for international migration.
Irish Prime Minister Leo Varadkar was among those to pay tribute to Sutherland following his death.
"He was a statesman in every sense of the word; an Irishman, a committed European and a proud internationalist," he said in a statement.
European Commission President Jean-Claude Juncker also said he was "deeply saddened" by the passing of Sutherland, whom he described as a "true European" in every sense of the word.
"He believed strongly in the work of the European Union and other international organisations and their importance for cooperation and international dialogue. He was one of the founding fathers of the Erasmus programme and was instrumental in shaping our internal market in the early days and competition policy as we know it today," Juncker wrote.
"Above all, Peter Sutherland reflected the core values of the European spirit in his everyday work and was convinced that by working together, great things can be achieved."