Trump boasts of being 'a very stable genius'
Comments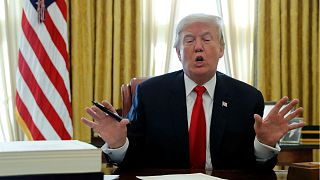 US President Donald Trump has defended his mental capacity, insisting that he's a "very stable genius."
In a series of tweets on Saturday, Trump hit out at the "Democrats and their lapdogs, the Fake News Mainstream Media," as he argued that his two greatest assets in life have been "mental stability and being, like, really smart."
The tweets followed the publication of author Michael Wolff's explosive new book "Fire and Fury: Inside the Trump White House," which includes claims questioning the president's fitness for office.
In an interview with NBC ahead of its publication, Wolff said that "100 percent of the people around" Trump, "senior advisers, family members, every single one of them, questions his intelligence and fitness for office."
In his volley of tweets on Saturday, Trump said suggestions that he was unfit to be president were out of "the old Ronald Reagan playbook."
Reagan, US president from 1981-1989, was diagnosed with Alzheimer's disease in 1994 and died in 2004.
"I went from VERY successful businessman, to top T.V. Star ... to President of the United States (on my first try). I think that would qualify as not smart, but genius ... and a very stable genius at that," he wrote.
Earlier this week, the president said he had authorised "zero access" to the White House, and that the book was "full of lies, misrepresentations and sources that don't exist."
Trump, 71, issued the tweets on Saturday from the presidential retreat at Camp David, Maryland, where he was meeting Republican congressional leaders and Cabinet secretaries about their legislative agenda for 2018.