Fire and flurry: Local bookstores experience unprecedented demand
Comments
By Lara Horwitz with NBC News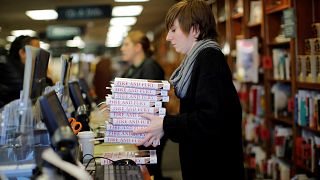 -
Copyright

Carlos Barria Reuters
Desperate readers flocked to local bookstores on Friday in hopes of getting their hands on a copy of Michael Wolff's explosive new tome "Fire and Fury: Inside the Trump White House."
The book, which provides a fly-on-the-wall type of look into President Donald Trump and his White House coterie, was originally slated to hit shelves next Tuesday, January 9 but a barrage of press coverage led to massive demand earlier release date made it difficult for even the largest book distributors to keep up.
"There has been increased interest in this title over the last 72 hours, with the book sitting on the top of our Best Sellers lists for Books, Kindle Books, and Audible," an Amazon spokesperson said in a statement. "Due to a last-minute change in the release date and heightened interest, we are working with the publisher to fulfill print book orders as quickly as possible. The Kindle and Audible versions of 'Fire and Fury' are available to download immediately."
Related: 'Fire and Fury' author Wolff calls Trump least credible person who has ever walked on earth
The inability to purchase the book online has caused somewhat of a frenzy at local bookstores across the country — and at one particular book store in D.C.
Kramerbooks, in Washington D.C., sold out of all their copies by 1 a.m. Friday.
"This has happened before, but not so much for political books," said general manager Lynn Schwartz said. He compared the scene at the store with lines out the door to that of a new Harry Potter book release.
"It was great timing for us," Schwartz added. "We have the added benefit of being open late."
The store has already placed a re-order for Monday.
A Barnes & Noble on 5th Avenue in Manhattan was experiencing such high demand that they implemented a 24-hour paid hold policy, store employees said.
Other East Coast retailers, such as Manhattan's famed Strand Bookstore were selling out of 'holds' before the books even arrived — due to the inclement weather causing shipments to not arrive on time.