Mixed verdict on Colombia peace accord
Comments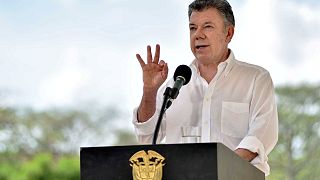 Colombia's President Juan Manuel Santos, joined by a distinguished international commission, met a delegation from the FARC political party on Thursday to review progress on implementing the peace accords signed in 2016.
Addressing reporters in Cartagena, Colombia, Santos said delegates had discussed "progress" and "priorities" aimed at restoring peace and coexistence.
He said that the implementation of the peace accords had been faster than similar agreements in other parts of the world.
"Today we had the opportunity to examine in great detail the advances as well as the challenges and bottle necks involved in peace building and starting the most complex peace agreement witnessed by the world in the last 30 years," Santos said.
But Ivan Marquez, the leader of the FARC, now a political party known as the Revolutionary Alternative Common Force, said it felt parts of the agreement had not been upheld.
Nonetheless it was agreed that the process will continue to go forward.
The peace accord ended a civil war that had lasted a half century.
The 2016 Nobel Peace Prize was awarded to Santos for his efforts.