Erdogan clashes with French journalist in Paris
Comments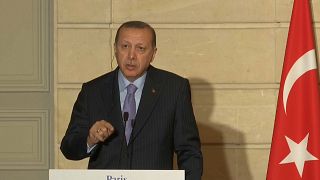 The Turkish President, Recep Tayyip Erdogan, has accused a French journalist of acting like member a group described as being terrorist in Turkey. The organisation is referred to as FETO.
Laurent Richard from Envoyé Special asked about weapons deliveries from Turkey to Syria in 2014 which were allegedly bound for ISIL.
Mr Erdoğan then expressed his anger.
"You are talking like a member of FETO. Not like a journalist, exactly like a FETO member," he said.
"Because the ones who did that operation, were FETO members and they are now in prison."
He continued with an attack on the U.S. "What about the fact that the US has sent 4,000 trucks of weapons to Syria? Why don't you ask that? When you are asking your questions, you should be sensitive in this point. And don't talk with the mouth of the others. And I also want you to know that you are not talking with someone who will accept this or swallow this."
Earlier a group of activists from Reporters Without Borders staged a protest in front of the Turkish Embassy in Paris, holding stenciled images of jailed journalists in Turkey.
Mr Erdogan is in Paris for talks with Emmanuel Macron amid protests over press freedom and concerns about human rights in Turkey.