'Turkey is worn out with waiting for EU accession' - Erdogan
Comments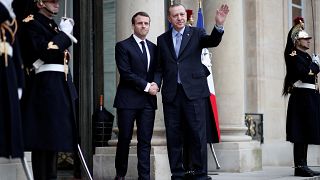 French President Emmanuel Macron has hosted his Turkish counterpart Recep Tayyip Erdogan in Paris amid Ankara's efforts to ease strained ties between the EU and Turkey.
It is the first high-level meeting between the Turkish president and a prominent European leader after a war of words between Ankara and several EU capitals over Turkey's post coup crackdown measures.
'Respect the rule of law'
The French president told his Turkish counterpart that democratic countries had to respect the rurle of law in their fight against terrorism as he voiced concerns about the fate of students, teachers and journalists in Turkey.
Macron said after talks with Erdogan at the Elysee presidential palace that they disagreed over how they saw human rights.
"Our democracies must be strong standing up to terrorism... But at the same time our democracies must completely protect the rule of law," the French leader said in a joint news conference.
Macron added that recent developments in Turkey did not allow for any progress in Ankara's EU accession process, saying it would be hypocritical to pretend that talks could be opened. He suggested a partnership with the EU instead, to preserve Turkey's integration with Europe.
Erdogan affirmed that Ankara was fed up with waiting for progress on its EU accession bid. "Turkey has been in the EU waiting room for 54 years... we cannot be permanently beging to join the EU," he said.
Angry exchange
There was an angry exchange with a French journalist whom the Turkish leader accused of acting as an apologist for terrorist organisations.
The reporter suggested that Turkish intelligence had sent arms to Syria. Erdogan said the operation had been conducted by supporters of Fethullah Gulen, the US-based cleric blamed by Turkish authorities for orchestrating the failed coup.
How important is the meeting?
Turkey and the EU have been engaged in a diplomatic spat since 2016 after Brussels strongly criticised Ankara for mass arrests in the country linked to the failed coup in July 2016. This was the first high-level encounter between President Erdogan and a prominent European leader since the row broke out.
For geostrategic reasons, however, Europe does not want to break away with Turkey. Diplomats say France is the right choice to gain momentum in ties between Ankara and Brussels.
What happened after the coup?
The Turkish government declared a state of emergency after the coup attempt and launched a huge crackdown on state institutions.
More than 55,000 have since been arrested, including journalists, lawyers, academics and opposition politicians.
Flashpoint issues
Criticism over the Turkish government's crackdown on those it views as opponents spiralled into a war of words between Ankara and Paris before Erdogan's trip.
On Wednesday, Macron expressed his views about the "problem of press freedom in Turkey" ahead of Erdogan's visit.
The French president said he would raise the issue of jailed journalists in Turkey during talks between the two leaders.
French journalist Loup Bureau was detained in Turkey and jailed for more than seven weeks on terror charges. He returned home in September after Macron appealed to Erdogan for his release.
What has Turkey said in response?
Erdogan's spokesman, Ibrahim Kalin, says Macron's remarks on press freedom in Turkey are "based on lack of information," if not made on "prejudice."
"Those who try to cast a shadow on Turkey's fight against terrorism over the rhetoric on freedom of expression should better understand the realities of Turkey," Kalin told reporters, adding the Turkish government is fighting three terrorist organisations.
Defence
On Friday Presidents Macron and Erdogan presided over the signing of key treaties on defence, banking and aircraft sales.
Macron went on to confirm clear and concrete discussions have been held on security, the EU, human rights, the fight against terrorism and regional security.
Erdogan had said he would discuss defence cooperation with NATO ally France during his visit to Paris, highlighting an "important step" Turkey would be taking with the Franco-Italian EUROSAM defence consortium.
In November, Turkey signed a letter of intent with France and Italy on cooperation in joint defence projects. Turkish defence ministry sources say, at the time, Ankara was looking into a missile system based on EUROSAM's SAMP-T system.
It comes a week after Ankara signed an accord for Russia to supply Turkey with S-400 missile batteries - a move which has worried the West because they cannot be integrated into NATO's military architecture.
What they are saying
"We are ready to further our cooperation with France in every area, including defence security," Erdogan told a news conference in Istanbul before leaving for Paris.
"If Turkey wants "hands of a friend" to energise the long-stalled ties with the EU, Macron is the right European leader" - Uluc Ozulker, Turkey's former ambassador to France.