Budapest party district to hold referendum on pub opening hours
Comments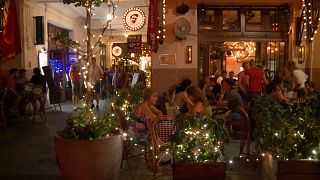 By day the 7th district of Budapest is peaceful enough, but Elisabeth Town is the party zone at night, where young locals and tourists flock to the bars, some of which are open until dawn. Now residents are to vote in a referendum that could see pubs forced to close at midnight.
The issue has been around for a while, with some resident complaining that the city is attracting the wrong type of tourism. One French tourist told euronews that he sympathised, but disagreed:
"As a tourist I would prefer places to be open all night long. Altough I can understand the concerns of the residents, I would find closing at midnight too early for the bars and pubs; I would suggest 2 or 3 Am as the closing time."
Not all residents are in favour of the vote.
"I don't think these places should be shut down,"  said one woman from the district. "I used to be young a long time ago too, and I loved going out. I live in this street and I am not disturbed by the young. I like them being here."
But Dóra Garai, the founder of the civil group Liveable Elisabeth Town, is in favour of curbing the partying: 
"The cheap tourism based on the quantity and binge-drinking instead of the historical values of an area will disappear sooner or later. Meanwhile, we should prevent the residents from moving out and having a ghost town."
The referendum is due to take place in February, however critics have pointed out that it will be non-binding and that drinkers could simply move on the neighbouring district where pubs are able to open until 6am.